Problems & Solutions in a Long Distance Relationship
| | |
| --- | --- |
| | |
Whenever two lovers spend extended time away from each other, long distance relationship problems are bound to pop up. It usually starts with a simple misunderstanding. That confusion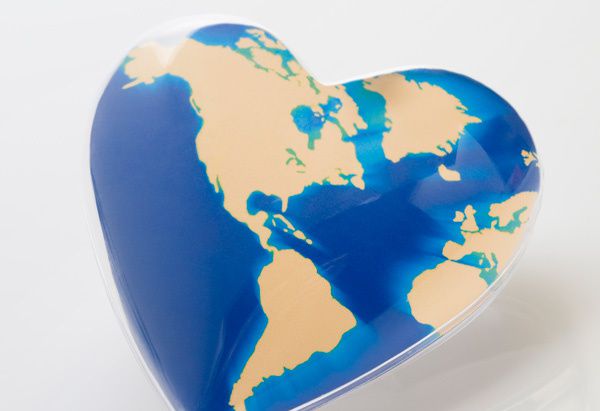 plus the time it takes for you to get an email or phone call back can drive you crazy.

By the time he finally calls, you are a basket case. You end up saying a whole bunch of things that you don't mean and now this little long distance relationship problem is a full-blown fight.

When you used to have miscommunications like this, you or he would drive over and figure things out in person. You were able to see the look on his face and understand where he's coming from. When things get resolved, then you get the benefits of being in each other's arms.

With a long distance relationship, you miss out on all the face-to-face interaction so you don't really feel like the disagreement was fully resolved. It's a lonely feeling, but it's not something you have to suffer through in the dark. If you love your guy and are committed to getting through any long distance relationship problems, then you should read Loving Your Long Distance Relationship to really get a handle on the in's and out's of holding on to a great, yet far away guy.

Here are some of the typical long distance relationship problems that you may encounter:
Slow Communication
The speed of communication. Email can take a long time. Both of you are living your life and sometimes it's impossible to respond to emails right after they get sent. Sometimes phone calls get missed. It's easy to get anxious if he hasn't emailed back right away, especially if you are saying some really vulnerable things. Maybe he doesn't answer his phone when you planned to talk. Your mind races through any number of tragic or sleazy scenarios.
Dealing with it. Slow down. Both of you. One of you might not be available for any number of reasons and almost all of them are totally innocent. One way you can prevent this clingy behavior in him is to not always be immediately available. I know it's hard, but every once in awhile, don't answer his email right away. Don't take his phone call and then call him back in a half hour. If you train him to understand that things don't happen every time he wants them to happen, then the process of communicating will go much smoother.

Jealousy
Your jealousy. He might mention female coworkers or classmates and you just can't help wondering if she's better looking, funnier, cuter, sexier than you. Yeah, we all do it. Of all the long distance relationship problems you encounter, this one's the worst. It's how you handle it that makes all the difference.

Dealing with it. Do you trust him? Do you really trust him? If yes, then it really doesn't matter how sexy this other woman is? He's not taking the bait. TV and movies have made us think that no one has any control over their desires and they jump into bed with anyone who half-way smiles at them. In reality, this is still a very awkward and confusing process. Add to that the love he feels for you and you have your far away boyfriend not doing anything wrong and wishing he was with you. People just aren't as pathetic as they are portrayed in the media.

What if you don't trust him? Girlfriend, you have some troubling times ahead of you. What did he do to gain your mistrust? Nothing? Then you need to learn how to deal with your jealousy. If he's cheated on you before… odds are that he will do it again. I know I just said that people aren't as scummy as we are lead to believe, but there are a few people that set the low standard for the rest of us.

Feeling jealous has a way of eating through your entire world. No matter what happened to you in the past, it's time to let go and learn to trust. If you're really having problems with jealousy, you might want to get your hands on a copy of the book, Conquer Jealousy and really learn to understand where these feelings stem from and how to stop them before they lead to even more long distance relationship problems, even worse, a bad breakup.

Jealousy is really all about a changing of your thought process. If cheating is an issue for you, the easiest way to handle it is to just let him go. If you really can't but you can't stand thinking about him cheating, then your only option is to talk about an open relationship. Open relationships are really difficult to make work, but if it gives you a little piece of mind, then go for it. You just need to set some stipulations:
1. Everyone ALWAYS uses a condom.
2. You both agree to respect each other and not put each other in danger.
3. You agree to respect yourselves and not get yourselves into sketchy situations.
4. No matter what, you will love each other.
5. If either one of you finds someone new, you have the courtesy to end it.

I know this is pretty unfeeling, but no feelings are sometimes preferable to always feeling miserable.

His Jealousy. This can be a terrible long distance relationship problem especially if you know you're not doing anything wrong. The problem with jealousy is that you can't make it better by reasoning. It's usually an irrational fear some guys get because they feel insecure. Your only defense is to make it a non-issue. Sometimes this can be dealt with by acknowledging it and laughing it off. "Oh, you're feeling jealous! That's so cute. No, baby, I am all about you and no boy could ever change that." And then let it go. Don't get angry or defensive. Many people think that only the guilty need to defend themselves. Act like it's beneath you and he may get the point.

If he doesn't, he'll torture you and himself with a silent jealous rage during your whole time apart. This is bad news and, really, do you need all of this heartache?
Fighting

Fighting on the phone Fighting is one of the most difficult long distance relationship problems to deal with because one of you can simply hang up the phone and not pick it up when the other calls back. It's cruel to not give the other person resolution, but sometimes someone says something that is just inexcusable.
Dealing with it. Make a pact before one of you moves away to never say things that makes the other person want to hang up. Just the simple act of agreeing to not step on each other's boundaries cuts out the majority of your long distance relationship problems from the very beginning.
Learn more about each other. Whenever it feels like a fight is brewing, change the subject! Take this time to ask meaningful questions about each other to get closer to the man you love. It's a fun exercise and will ensure you keep him while you are apart.
Long Distance Activities & Ideas for couples
Watch things simultaneously together!
Watch the same movie or TV show at the same time. Frank and I have used these sites:

YouTube and Amazon both offer movies you can rent online. Use the links to be taken directly to their online movie rental/video on demand pages. Frank and I have tried both and they work awesome :D

Hulu.com - Frank and I use this site to watch Glee together :D (and best of all it's FREE)
Send your boyfriend/girlfriend flowers!
There are lots of websites that will deliver flowers for you, but if you don't want to spend money sending a real bouquet, you can send a virtual bouquet using this website. I just got done sending Frank some roses myself :) Flowers2mail.com. Another website that lets you send either real or virtual flowers is Virtualflowers.com

Learn new things about each other: The CURE for boring phone calls
Think you have run out of everything you could say to each other? Try this.... When it's one of those days where you guys just can't think of anything to talk about, try asking questions. Here's a good site with 100 questions to ask your love: 100 Questions to Know Your Partner. These questions are great discussion starters.

For even more questions check out 1,000 Questions For Couples. I got this e-book myself and Frank during a rough time in our relationship. We were running out of things to say, and we were arguing a lot, mainly because we had nothing else to talk about. So I got this book and Frank and I spent hours one night asking each other the questions. It was so memorable, and we had more fun than what we had in a long time. The questions are split up into categories such as Attractions, Past & Future, Money, Pets, Sex, and tons more. You'll learn so much about each other, stuff you never knew. On a side note, by going through this e-book together, it will make it easy to bring up difficult questions you may have wanted to ask your boyfriend/girlfriend but were afraid to ask.
Write a letter on Love Letter Day (10th of every month).
You've probably seen this one before, but it is really a good idea. Handwritten letters are really nice to get and can be fun to write. I love seeing Frank's messy handwriting, haha, so much character. Letters can mean so much more than an email. Here are some sites with free printable stationary!

Read about Love Letter Day at LFAD!<-- visit this page to get FREE printable stationery.

A little inspiration: Love Letter Gallery - a growing collection of love letters by couples from around the globe

Love Letter Satchels handmade by me! I came up with the idea to create a "satchel" for my very own love letters, photos, greeting cards, movie tickets, bus tickets, etc from my relationship with Frank.

I will make a custom satchel just for you! I have 15 fabrics and 8 ribbons for you to choose from.

LDR gift tip? Order one for your partner and promise to send weekly/monthly love letters and cards!

Send an e-card!
I know you've probably seen this suggestion before. Tired of lame e-cards? You'll get a kick out of Someecards.com (Thinking of You section). These e-cards are hilarious! If you're easily offended by vulgar language, this site isn't for you. Want something a bit more romantic? Check out these LDR e-cards.

HoochyMail!
Okay, so maybe Frank doesn't like this one so much... HoochyMail is a website where you enter information and it automatically generates a story with your names in a MadLib type fashion. You choose the story level: sexy, x-rated, or off the wall. I did this for Frank, and cried laughing reading the story the website generated. I think Frank just stared at his computer with his eyebrows bunched up.
Say cheese!
Before Frank and I had webcams, I would occasionally take a picture and email it to him so he could see me. He always loved it :) If he was having a bad day they would cheer him up. Here are some other picture related ideas:
Picaboo lets you design awesome photobooks. It's like modern scrapbooking without scissors, glue, and the mess. You design it digitally and picaboo prints it! To register for free and download their free program click the link below:

Picaboo - Create a Photo Book. Fast, easy, fun and beautiful.

Create online photo albums for each other. Some good sites: Flickr.com and Webshots.com

Get creative and edit your pictures with this free imaging tool (tons of awesome effects!) Picnik.com

Rollip.com will help you transform your pictures into classic Polaroids! Plus it is free to use!
Share a journal.
I wanted to do this with Frank, but he's lazy. I had this brilliant idea for us to share a journal. I would keep it for a couple weeks or so, and write in it everyday with my thoughts, and then mail it to Frank, and he could keep the journal and write in it, and it would just keep going back and forth. I thought it was a good idea. Maybe your boyfriends/girlfriends will be more willing participants than Frank! Other journal ideas? You could also each have your own journals that you can exchange. Or have an online journal. Here are a couple sites: Xanga.com and LiveJournal.com. These both have privacy controls so you can control who sees your journal.
Webcams + IM + YouTube = Fun!
First of all, if you don't already have a webcam, get one! You'll be glad you did. Ekko.tv lets you use your favorite instant messenger (choose from AIM, Yahoo Messenger, MSN Chat, & Google Talk), your webcam, and it also lets you watch YouTube videos simultaneously with the person you're having a webcam chat with all in one browser window. How cool is that? There is nothing to install and it's completely free to use. To go straight to chatting right now go here: Use Ekko.tv now!

Skype is a free video chat service that is very popular with our LFAD Members.

Frank and I mainly use GMail Video Chat. We like that it lets us customize the size of the window and we can even increase the size up to full screen without much loss of quality.

Play a game together.
Frank and I just love playing multiplayer games together online. Check out our list of multiplayer games that you can play with your boyfriend/girlfriend here:

Make a website!
Make a website about your relationship that you both can work on. It is a great way to track your progress in your relationship, and what a great idea it would be to add a timeline.... I might just do that. Webs.com, the webhost that we use for this site, offers free websites with blogging, photo album, and video functions. Be creative together! You could also make a website for your boyfriend/girlfriend for your anniversary or any random day and surprise them with it by sending them them the link!
Sing karaoke together!
This is a neat idea I've come across. Haha, I'm not sure Frank would do this with me... But for you die hard karaoke singers out there, this might be some fun, and something you can do online with your love! You will need a webcam and mic for this one. Try this site: Ronan's Free Online Karaoke.
Read a book together.
A great idea is to read a book together. This is great for those couples who have limited time together, and need to find something to do together when they can't be. Find a book you think you both would enjoy and agree to read a chapter every night. Reading together, can open up lots of discussion, and can help boost a relationship in which both people feel they have run out of things to talk about. Check out Half.com. They sell books at very discounted prices, new and used. Also, be sure to check out our LDR Book Store for LDR advice books as well as novels based on characters who are in LDRs.

Join a virtual world!
Some may cost you money if you want extras, but Second Life, Kaneva, IMVU, and There have free basic membership. You can socialize with other people in these virtual worlds with both voice and text chat. Programs like these are great for those in long distance relationships because they can allow you to go on virtual dates, and can be more interactive than just talking online.
Get a KissPhone?
A little bit creepy, but somehow I picture myself having tons of fun with it and spending way too much time using it, a KissPhone is a gadget that allows you to kiss your significant other from afar. It allows you to send and receive kisses. You kiss the lips on this device and it detects percussion speed, pressure, temperature, and sucking force of the lips when you kiss it, and somehow is able to reproduce these when you send your kiss to another KissPhone. Strange? I don't know, but I'd like to try it :P It isn't currently available, but may be in the future.

Listen to music together.
If you're online a lot with your boyfriend/girlfriend instant messaging, why not listen to music together as you chat? There are tons of free online radio stations online. Here are a couple sites to get you started: Live365.com and RadioTower.com. You can also make your own radio station together, check out Blip.fm
Send fun coupons
They can redeem them the next time you see them. These are great to include in care packages along with other nice items they may enjoy. You can make your own or print out these ones from GiveCoupons.com
Get married.
Haha, not for real, but if you're feeling a little silly this website might be fun. Have a virtual wedding. You do everything online: propose, fill out the marriage certificate, have the wedding, invite guests, wedding photos, and you can even divorce. Virtual Wedding Chapel.
Send an E-Kiss.
VirtualKiss.com has a kissing booth where you can create a custom kiss to send to whomever you wish for free. You choose lip shape, color, and texture. Include a message, and it's all set to go! :) This website also has a lot of other interesting content all about kissing.
Send a Hip-Hop gram.
You can send a song to your love with their name actually in the song. And it's free! All the lovey dovey type songs are only meant for sending to girls for some reason.
Create an email time capsule!
Write an email to yourself and your boyfriend/girlfriend to be sent in the future. By using this website: FutureMe.org. This is something you can do for them or something that you can do together. Write about how much you love them. Include maybe some recent things you have done and fond memories you have now that you may not remember in x amount of years. Maybe include current problems in your relationship, so when you receive the email in the future, you can see if you still have the same issues you did back then or be pleased that you've made it through some hard times in your relationship. You choose when it gets delivered. How neat would it be to send it on your anniversary?? :) This website lets you send it all the way until 2037! FutureMe.org. To send an email to another person besides yourself you just have to register. It's free.
Take an online compatibility test.
SimilarMinds.com offers a compatibility test that you can take with one or more people. Fill out the form and they will send an email to whom you choose so they can take the test. Once you have both completed the test, you'll get an email that tells you your results. Want to know our results? Frank and I are 75% similar and 81% complementary. I hope that's good!
Make them cookies :)
It's always nice to receive things in the mail, especially when they're edible. I've baked cookies for Frank a couple times and he loved it. A website I always use is AllRecipes.com. You can never go wrong with their 5-star recipes! Just make sure that when you send them, that they'll get to their destination within 2 days, if not overnight.
Share an online calendar.
Keep your relationship on track by sharing an online calendar. Keep track of visits, plan times to talk on the phone, and mark days that you will be busy and unavailable to your partner. Sharing a calendar can help you both know what's happening and know what to expect in advance. I suggest using Famundo.com! Also try Google Calendar.
Send a drawing or handwritten message by email.
I just discovered this site, and love it! Try out Try out Handwritten & Mailwriter. "Handwritten is a tool that can record the motions of your mouse-pointer while you write/draw a message/picture. This message can then be sent to anybody by email - the email contains a link that leads to another applet that draws the message before the eyes of the recipient."

"With Mailwriter, you can write and mail handwritten messages. The mail that the recipient receives will contain a link to a site where the message will actually be "handwritten" in an animation. There are lots of special symbols, different colors, font-sizes, word-wrap and much more!"

Go on a virtual vacation together.
You can visit faraway places with your partner without having to be together and without leaving your own homes! Pick the places you've always wanted to take a trip to and explore. Here is a great website to get you started! 360Cities.net: "All our city sites are produced by experienced and dedicated VR photographers around the world who are committed to high professional standards and use the latest VR techniques. Click on any image from our many city site homepages and your browser will open a full, 360-degree panorama visualization of a street scene, museum, neighborhood, restaurant, bar, hotel and more. In the side bar you'll see a thumbnail list of nearby locations. Start clicking and take a virtual tour through the area."

Another semi-related idea? You can use Google Maps for your virtual vacation as well, but now with Google Maps' street view function, you can virtually walk down your boyfriend/girlfriend's street and explore the area where they live. This function isn't available for all streets and cities though, but you'll probably most definitely be able to see a satellite view of their home.

Also try out EarthAlbum.com which combines Flickr photos and Google Maps. Just click on any place in the world to view beautiful photos taken there.
Truth or Dare?
I thought this was such a great idea when someone mentioned they play this game with their long distance boyfriend: "I find that playing games over the phone keep things interesting and fun. We played truth or dare just last night and we both just collapse in laughter at the dares and the truths." This would also be great to play on webcam as well. Need help coming up with Truths and Dares? Here's a website where you can choose from G rated to X rated truths and dares, and they even have a couple's question category that you can select: TorDol.com
Surf the web together.
This is something you've probably already done if you both have the internet, but here's a way to make it better. "StumbleUpon discovers web sites based on your interests. Whether it's a web page, photo or video, our personalized recommendation engine learns what you like, and brings you more." Frank and I have spent all night clicking the stumble button and sharing our funniest most interesting finds. Trust me, you'll get addicted.
Make something.
Homemade gifts are the best! Not only will your boyfriend/girlfriend love that you put in the effort and time to make something for them, but you can also have a lot of fun making something. Both Frank and I will once in a while express our creative sides and make homemade gifts for each other. Frank actually hand-stitched a stuffed animal for me (he had never touched a needle and thread before) and I've painted a picture of a cover of one of his all-time favorite albums. LovingYou.com has some ideas to get you started.
Watch them walk by :P
I once got Frank to walk by a public live webcam at his college. He trekked across campus just so I could see him walk by. It was awesome :) I am so easily amused! If you go to college, many campuses have live public webcams. Search your school's website. Want to find other live public webcams? Here's a site where you can search for public webcams: OnlineCamera.com
Play phone games.
Here are a few games that work well on the phone.


ABC game:

Starting with the letter "A" think of a word that begins with each letter of the alphabet. When the next person goes they run through the letters that have words and add to that string of words a word that starts with the next letter. It goes like this: BF: Apples, GF: Apples, Ball, BF: Apples, Ball, Cat, GF: Apples, Ball, Cat, Dog, and so on... It really tests your memory. Have fun with it and only use words of things you have in the room you are in, or try another way to make the game themed.



21 Questions:

We've probably all played this game before. Think of a person or an object. The other person gets to ask up to 21 yes or no questions. If they can't guess correctly the person or thing you are thinking of within 21 questions, they lose.




3 Word Story Game:

Create a story together 3 words at a time. Take turns adding 3 words at a time to the story. The result is a silly obnoxious story that is sure to have you both laughing.



Name That Tune:

This is based on the game show. Take turns humming a few bars of a song and letting the other person guess what the song is. Alternatively you could also speak the lyrics and have them guess the song.

Another idea is to have fun asking each other riddles. Either come up with your own or find tricky ones online.
Cook and eat together.
Well sort of... I love this idea. Lehxi shared with me what her and her boyfriend do on their date nights:

"My boyfriend Neil and I are an ocean apart. (He is in England, I am in Michigan, USA.) On special days, usually Friday, we'll have a date night. A day or two before we'll plan a meal (We take turns giving each other recipes.) so that we can buy ingredients. We then dress how we would if we could really be together that night and eat together. This would be good with webcams, but neither of us owns one that works so we use chatrooms that we make ourselves. (iScribble, MSN, dA chatrooms, etc.) IMVU is also a very good idea for this, because you can dress your persona to how you would look. Try it! It's cute and fun, not to mention a good way to learn about the culture they're used to or one that they admire."

So as Lehxi said, take turns exchanging recipes or search for a new recipe online that you both want to try. Again I'll suggest AllRecipes.com. This website will adjust ingredient amounts when you change the serving size, so you don't have to worry about having a ton of leftover food that could feed a family if you're eating alone.
Make them laugh with ZingFu.
So what's ZingFu? "ZingFu is a totally awesome website that lets you turn your photos into funny Zings that you can share with your family and friends (or enemies)." On this website you choose a scene or picture that you can insert your own picture in. Then you upload your own photo, resize and position it, add a speech bubble and you've got yourself a Zing that you can send to your loved one. They have all kinds of funny scenes to choose from including some from movies. If you join you can choose to make your zings private or public. If you go to the link I included it takes you to their list of scenes you can choose from. Simply over your mouse over the options to get a preview of the images. Have fun creating a picture of you, your boyfriend/girlfriend, or one of both of you!

I just found this similar site that let's you impose your face (much like Zingfu) on their images. Check it out: Photofunia.
Frank Rocks Blvd.
AddLetters.com has a sign generator with all kinds of images available to choose from (Billboards, restaurant signs, street signs, etc...). You just add the words and a little romantic imagination. And voila! Your image is ready to download and send to your loved one. They also have a Bart Simpson chalkboard generator and a newspaper headline generator.
Silly love letters.
I've suggested nice, handwritten love letters, but here's a website that is sure to make you laugh and is far from romantic, but is still so much fun. BlueSwami is a love letter generator that is absolutely crazy. Just submit your boyfriend/girlfriend's first name and hit enter and it will give you a short little love note. Surprise them and email them your generated letter.
Hug-O-Matic.
You answer the questions, and the hug-o-matic generates a sweet message for you to send to your love. They call it "hugmail." Every day they change the questions, so you can go back and send new hugmail. I just sent one to Frank, and for being a new user, they sent me a free mp3! Hug-O-Matic.com
Share a special ring tone.
Set a special ring tone just for your boyfriend/girlfriend (different from your default ring tone that plays when others call), so when your phone goes off you know it's them. Your boyfriend/girlfriend can set the same special ring tone to play for when you call. If you are one of those couples that has a special song, use it! Even though this is a little thing, it is something you both can share, and can be comforting to know that when you or your boyfriend/girlfriend calls, your song is playing :) How to do it? Easy, just go to your contact list, scroll to their name and choose "edit" and you should see an option to select a ring tone for that contact. Want free ring tones? Try CoolFreeRingTones.com. Or take it a step further and create your own special ring tone using your own mp3 file. Download Audacity to cut a clip from the song you want to use, then email the file to your phone and your boyfriend/girlfriend's phone. And now you have yourself your own unique ring tone!
Create a personal crossword puzzle.
I did this for Frank once. I had so much fun thinking of clues and words, almost as much fun as Frank had trying to solve the puzzle. Here's a site that will create a pdf file of your crossword so you can email it to your boyfriend/girlfriend: Crossword Puzzle Maker
Send them a text. For free!
For a while, I didn't have a text messaging plan for my cell phone, but Frank did. Every once and a while I would send him texts regardless, and I'd get charged for all of them, and the month I ended up paying more than what the basic texting plan cost for only a handful of texts, was when I finally cracked and got a texting plan. For a while though I used a free online service which sends texts for free. Frank would send his reply texts to my email address. It worked very well. So I totally suggest it if you don't have a texting plan or if you're running out of your monthly texts. Cellphone service providers also may give your number an email addess, such as 5556667777@vtext.com (Verizon), so you can email to your boyfriend/girlfriend's phone a text that is free for you. Remember that both of these ways of sending a text are not free for whoever you're sending the texts to (if they don't have a texting plan).

"Be naughty."
This is something that maybe you've done or thought about doing in your long distance relationship. Anni who is also in a long distance relationship suggests: Be naughty from time to time. When you're in love it simply belongs to it that you are intimate, and you shouldn't let the distance affect your "private time." Even if you're not in the same room, state, country or continent, it doesn't matter. All you need is a phone, instant messaging or (my personal favorite) a webcam. Tell him/her what you think and how you feel. Tell him/her naughty things. Write a romantic/erotic story with the two of you or do role-playing. If you wanna go farther, use your webcam and show your partner a little "more" of you. Only try this with your partner if you feel comfortable doing this with them. If you've never been physically intimate with your boyfriend/girlfriend before, this can either be a gradual transition to that stage, or you may not feel comfortable doing these things on the phone/webcam until you've been with them in person, or you may never be comfortable. If both people aren't completely comfortable with the idea, then you shouldn't do it.

Shout it from the rooftops!
Something you can do on our website! Submit a shout-out to your long distance boyfriend/girlfriend and have it posted on our website. Go here to read others shout-outs and to fill out the form to submit your own: Shout-Out To Your Love!
Share LDR bracelets.
Get one for your girlfriend/boyfriend, or for yourself too.

Show off your long distance pride. A keychain option is also available. You can include a special message too!

Make a card.
I've done this many times. I usually make them for special holidays for Frank, but a handmade card can be appreciated any day of the year. Often I draw and create my own cards, but if you're not confident about your artistic abilities check out these sites for help and great card ideas: SmartArtCards.com (sign up to get free card making ideas) and Making-Greeting-Cards.com. Want to send a card right away and don't have enough time or the materials to make your own card? Check out Hallmark's personalized cards with sound where you can choose a song to add to it and add your own words. When you order any Hallmark paper card, you can add your own words (or use their own) and they'll mail the card for you.
Watch a concert together.
This is a great idea if you both like the same music. Even if you don't like the same music genres, watching your boyfriend/girlfriend's favorite band play is a way to show them that you care about his/her interests. This is definitely a combination of ideas 1 and 16, but unique enough to set it apart.
Send video messages.
I just discovered this great online application that lets you send video messages. It is like getting emails in video format! And it's free! This can be really ideal for couples who don't get to talk to each other a lot on the phone or webcam due to extreme differences in time zones. "EyeJot.com is the first, comprehensive, client-free online video messaging platform ideal for both personal and business communications. It offers everyone the ability to create and receive video messages in a self-contained, spam-free environment. With no client to install, you can start using Eyejot immediately with any browser, on any platform."
Send your scent.
I've done this for Frank before. What I did was I took a piece of felt and cut out a heart shape. I then spritzed a small amount of the perfume I wore at the time on it, and sent it to him so he could smell "me." If you've been with your LDR boyfriend/girlfriend before in person, getting the chance to smell "them" can turn on some very strong emotions. The power of scent on our memories and emotions is amazing. I love the smell of Frank's deodorant and as funny as it sounds, I miss smelling him. So when I'm shopping and go by the deodorant aisle, I always stop to pick up the exact deodorant he always buys, and I take the cap off to get a whiff, and for a second it feels like he's right there. :)
Write a poem.
You don't have to write a serious love poem necessarily. Try writing a poem about your usual day, a poem about the things that make you think of him/her, or the things you miss about him/her. Make it a fun poem. You don't have to be overwhelmingly romantic with a long drawn out poem about your hearts as one and her eyes. An everyday, short, funny, cute poem can be appreciated just as much, if not more. If you want your poem to rhyme, here's a nifty tool to help you find the right words: RhymeZone.com
"I'll see you in my dreams."
Okay, you're gonna think, "Well that's quite a stretch," or, "This girl is crazy." Well let me tell you something, this is number 55 and the ideas aren't coming so easy!

Well today I thought of something Frank used to say a lot to me before we went to sleep: "I'll try to dream of you tonight." As I'm sure many of you in long distance relationships have said or at least wanted to do on occasion. So I did a little research and yes, it is possible to be able to control your dreams. They are called lucid dreams. I've had them before a few times but never practiced or trained myself to recognize I was in dreamland. One time I realized I was dreaming and immediately was excited and the first thing I wanted to do was fly. I kept jumping up and down until I finally was able to float up! I totally did not think of Frank, or the possibility of materializing him there. It just never occured to me. So anyways, back to my research, I found that you can actually control whether or not your dream is lucid, just by simply realizing you're dreaming, and once you do, the fun begins! You control your surroundings and who's there, and more importantly what you can do. What do you have to lose by trying? You have to sleep and dream anyway! So here are some links to educate yourself, and maybe tonight you can make the distance disappear.
Design something unique.
A while ago Frank designed for me a cute little item with his own special message: "You are loved." There are a couple sites out there that will let you custom design pretty much any product you want... clothing, hats, mugs, bags, even shoes... the list goes on. All you have to do is upload an image you've made or a picture and resize it on the product of your choosing. Leave the rest of the work up to them. Check out Zazzle.com. (very simple and easy to use! not to mention lots of fun!)
Keepsake boxes.
I save everything I get from Frank including cards and letters. I also save things like bus tickets, movie tickets for movies Frank and I have seen together, the first rose Frank gave me (it's dried), as well as a multitude of other things that I have accumulated during our relationship. Right now I have them all in one of those clear plastic storage boxes with a lid... all those special things in a not so special box. So I have come up with this idea because it is something I would like to do myself. Make keepsake boxes for each other! Go to any arts & crafts store and you'll find boxes... wooden or durable cardboard boxes that are plain so you can decorate them as you wish. Use paint, pictures, stickers, messages, etc to decorate the outside of the box. Find a nice fabric, faux fur, or felt to line the inside. Exchange your boxes the next time you see each other or mail them. And now you have a special box your boyfriend/girlfriend made for you, to put all your special things in. :)

Popular Facebook Groups