| | |
| --- | --- |
| | |
Lack of sex drive is also called 'lack of libido' and 'female sexual arousal disorder'. Fortunately, for many women lack of libido is only temporary. Lack of sex drive is common in women but rare in men.

Although it is not widely discussed, loss of libido for women is a common problem. Any number of things can cause the lost interest of sex. It is something that you can ask for help with from your partner and you doctor. Many women find that after medical procedures such as hysterectomy or tubal ligation; interest in sex has diminished. Menopausal women also have decreased libido. Certain prescription drugs can also cause a lull in sexual interest as well. Depression can also be another cause. In fact there are many factors that affect our libido; though we may not always consider them a trigger.

How can you tell if you are lacking interest? Of course if your partner says that you are reacting or not reacting differently; there may be a problem. Often, those with low or no libido just feel too tired to have sex. If you find that you have lost interest in this area and it is affecting you and your relationship, you should definitely work to find what may be causing this reaction. Your partner can be quite helpful in helping you to locate changes in your life that have occurred. Your physician or gynecologist can also help pinpoint certain drugs or help problems that may be the culprit of your lack of interest in sex.

Research is becoming more widespread in the cause of lack of libido in both sexes. For both men and women low levels of DHEA or Dehydroepiandrosterone are often the cause. This leads some researchers to believe that a hormone treatment would be helpful to boost levels. You should ask your doctor about any hormone treatments before using them.


Also, there are a number of products on the market to help enhance a woman's libido. These over the counter supplements contain roots and extracts that are widely known to enhance intimacy and energy levels. It is best to discuss taking any dietary supplements with your physician prior to using them. If you are taking any prescription drugs, you must definitely consult with your doctor. In some rare instances, herbal supplements can cause adverse reactions when mixed with prescription or even some over the counter medications.

Every woman is unique and each scenario will be different. What may work for one woman, may not work for another. No one really wants to admit or especially discuss sexual problems and/or dysfunctions, but if they are not confronted; intimate relationships can and most likely will be affected. Your partner may think that you have lost interest in him or her or that you may be having an affair. We never know what is going on inside another person's mind until we ask them openly and honestly. Loss of libido is not just your problem—it is also your partner's problem and you both must deal with it together. Sometimes time can and will improve adverse reactions; such as loss of libido due to a new prescription medication. If you are suffering from a hormonal imbalance that is affecting your libido or lack there of; you must speak with a qualified health care person. Couples should not wait until it is too late to confront one person's loss of libido, as this can be very emotionally damaging to the relationship.

Common physical causes for lack of sex drive:
Anaemia, which is very common in women because of iron loss during periods.
Alcoholism.
Drug abuse.
Major diseases such as diabetes.
Childbirth. Immediately after childbirth, some women lose their interest in sex. This is almost certainly linked to hormonal changes that occur at this time. After having a baby, many women are too sore and too exhausted to think about sex.
Prescription medicine.
Hyperprolactinaemia - a rare disorder in which the pituitary gland is overactive.

Common psychological causes for lack of sex drive:
Depression
Stress When you are stressed, your over-worked adrenal glands can rob your body of the building blocks it uses to make estrogen and testosterone. Estrogen and testosterone are vital to desire and sexual response.
Anxiety
Hang-ups from childhood
Past sexual abuse or rape
Serious relationship problems with your partner
What should a woman do about lack of libido?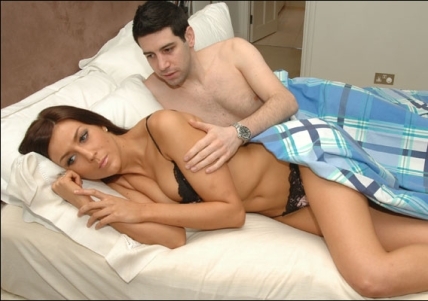 Here are some tips I recommend:
1) Schedule sex dates. If you're up late doing the dishes, doing the laundry, and doing the children's homework, you won't feel like doing your lover. Plan ahead and make it happen.
2) Fake it 'til you make it. Not that you should ever fake orgasm (I highly recommend against doing so), but going through the motions of being sexual can get your juices flowing, even when you're not in the mood.
3) Buy the book 101 Nights of Greaaat Sex by Laura Corn – and use it. It's filled with tear-out pages of sexy seduction scenes For Him or For Her. It works every time, if you're daring enough to be a little naughty.
4) Experiment with erotic movies, books or magazines. Send your inner critic to time out and see how you feel. Keep an open mind.
5) Invite some sex toys into the bedroom. If you usually keep your vibrator in the bottom drawer, under a pile of magazines, yank it out and welcome it into playtime with your partner. If you've never experimented with sex toys before, consider going shopping.
6) See your doctor. A battery of tests can look for reversible causes that can be addressed. You might also consider a trial of hormone replacement therapy. While studies to support its use are limited, some patients report improvement in their libido when using low dose testosterone replacement. If your estrogen and progesterone levels are low, as they are in menopause and may also be premenopausally, you may benefit from replacing these hormones as well. Talk to your doctor about the risks and benefits if you're interested in exploring how hormones might help your sex life.
If you can't determing why you have a lack of sex drive, go to your doctor. Your doctor can discuss the problem with you and do any necessary tests. Women doctors at family planning clinics are often used to dealing with libido problems.



How to Date Your Spouse
Price: $10.36 & eligible for FREE Super Saver Shipping on orders over $25.
You Save: $2.59 (20%)
Popular Facebook Groups